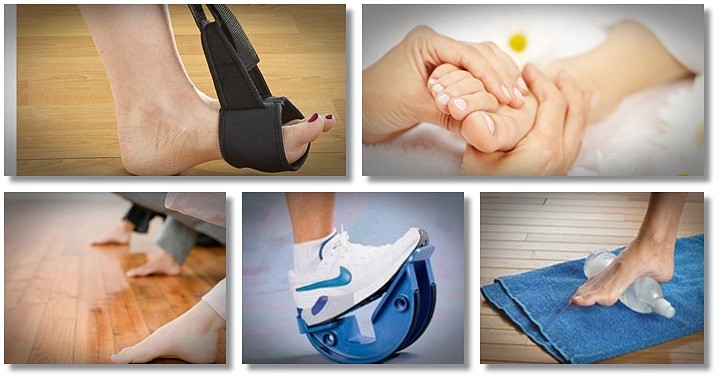 Overview
If your first few steps out of bed in the morning cause severe pain in the heel of your foot, you may have plantar fasciitis, an overuse injury that affects the sole of the foot. A diagnosis of plantar fasciitis means you have inflamed the tough, fibrous band of tissue (fascia) connecting your heel bone to the base of your toes.
Causes
Plantar fasciitis generally occurs over time, rather than being the result of a single event. Micro trauma from repetitive stress to the tissue often combines with a biomechanical deficiency of the foot to produce the condition. In addition, arthritic and metabolic factors may contribute to the development of this injury, (though they are unlikely to affect young athletes). A variety of training errors commonly lead to plantar fasciitis, particularly a rapid increase in either volume or intensity of athletic activity. Volume refers to the distance or time an athlete performs, while intensity refers to the pace of activity and/or the recovery time allowed following performance.
Symptoms
When plantar fasciitis occurs, the pain is typically sharp and usually unilateral (70% of cases).Heel pain worsens by bearing weight on the heel after long periods of rest. Individuals with plantar fasciitis often report their symptoms are most intense during their first steps after getting out of bed or after prolonged periods of sitting. Improvement of symptoms is usually seen with continued walking. Numbness, tingling, swelling, or radiating pain are rare but reported symptoms. If the plantar fascia continues to be overused in the setting of plantar fasciitis, the plantar fascia can rupture. Typical signs and symptoms of plantar fascia rupture include a clicking or snapping sound, significant local swelling, and acute pain in the sole of the foot.
Diagnosis
A thorough subjective and objective examination from a physiotherapist is usually sufficient to diagnose plantar fasciitis. Occasionally, further investigations such as an X-ray, ultrasound or MRI may be required to assist with diagnosis and assess the severity of the condition.
Non Surgical Treatment
The initial treatment of plantar fasciitis focuses on reducing pain and inflammation. Resting the affected foot is the most important aspect of this treatment. Other initial treatment may include, aplying ice to the sole of the foot, Anti-inflammatory medications. Gentle stretching of the plantar fascia and Achilles tendon. Physiotherapy. Taping the foot and ankle to provide adequate support and alignment, Wearing supportive footwear with shock-absorbing soles or inserts. Non-steroidal anti-inflammatory drugs (NSAIDs) such as ibuprofen (Brufen) and diclofenac (Voltaren) are often used to treat plantar fasciitis. It is unclear whether NSAIDs assist in the healing process but they are useful for controlling pain during treatment. If the condition does not respond to initial treatment, a corticosteroid therapy may be recommended. This involves the injection of corticosteroid medication such as hydrocortisone (Solu-Cortef) directly into the affected area in order to treat the inflammation and thus relieve the pain. Night splints to prevent the plantar fascia tightening during sleep may also be recommended at this stage.
Surgical Treatment
When more conservative methods have failed to reduce plantar fasciitis pain, your doctor may suggest extracorporeal shock wave therapy, which is used to treat chronic plantar fasciitis. Extracorporeal shock wave therapy uses sound waves to stimulate healing, but may cause bruises, numbness, tingling, swelling, and pain. When all else fails, surgery may be recommended to detach the plantar fascia from the heel bone. Few people need surgery to treat the condition.
Prevention
Maintain a healthy weight. This minimizes the stress on your plantar fascia. Choose supportive shoes. Avoid high heels. Buy shoes with a low to moderate heel, good arch support and shock absorbency. Don't go barefoot, especially on hard surfaces. Don't wear worn-out athletic shoes. Replace your old athletic shoes before they stop supporting and cushioning your feet. If you're a runner, buy new shoes after about 500 miles of use. Change your sport. Try a low-impact sport, such as swimming or bicycling, instead of walking or jogging. Apply ice. Hold a cloth-covered ice pack over the area of pain for 15 to 20 minutes three or four times a day or after activity. Or try ice massage. Freeze a water-filled paper cup and roll it over the site of discomfort for about five to seven minutes. Regular ice massage can help reduce pain and inflammation. Stretch your arches. Simple home exercises can stretch your plantar fascia, Achilles tendon and calf muscles.